Services Provided by Dero
Free CAD Layouts
Let us maximize your bike parking. Send us a drawing of your space and our expert CAD trained staff will provide you with a free layout that gets the most out of your available room – at no charge.
Free Custom Designs
Got an idea for a great artistic bike rack? Send us a description or sketch and we will send back a free mockup of your design. The possibilities are endless.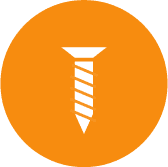 Installation Service
Got a big project you want installed right? Dero can provide installation service anywhere in the United States. Subject to minimum order size.