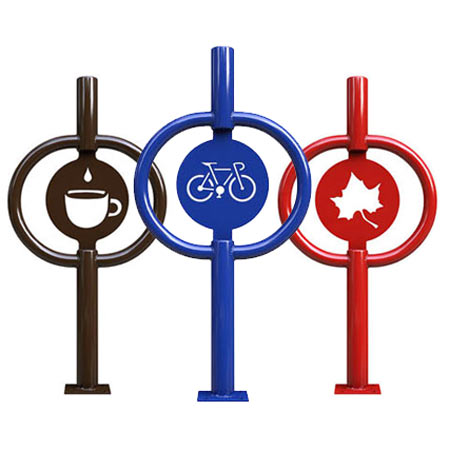 Custom racks at off-the-shelf prices
Spice up your bike parking without the expense of a fully customized bike rack design. Choose from eight designs: beer mug, bike, bird, coffee cup, silverware, maple leaf, music note, and wine glass. These frequently requested designs are now available with a quicker lead time and a lower price point. Ideal for coffee shops, restaurants, brew pubs, nature centers, and anyone who wishes to make a statement with these eye-catching bike racks.
These racks are available in a surface mount only and come in any of our standard powder coat colors.
| | |
| --- | --- |
| Security: | |
| Cost per Bike: | |
Eight Designs to Choose From


Make Biking and Walking to School Safer for Kids
With your purchase of the Bike Icon Hitch™, we will send 15% of the sale to Safe Routes to School National Partnership. Together we can help make sure biking and walking to school is safe for our kids. Thank you for making a difference.*
*Not including sales via regional reps. Purchase or get a quote online or call Dero headquarters (888) 337-6729 to benefit Safe Routes to School National Partnership.